Neelam Rai, a housewife, clearly remembers Narendra Modi's stirring promises of turning Varanasi into a 'world class city' while evoking 'Maa Ganga' just before being elected Member of Parliament (MP) from here.
A year later, while the 'world class city' remains a far cry, Neelam finds many little, yet significant changes on ground that the city has seen. Though she would expect much more, for, after all, the local MP is the Prime Minister of the country.
"For the first time in twenty years, river water at Assi ghat is touching steps. It used to remain covered by silt earlier. Some roads are becoming better too. One can see divider on Ravindra Puri bypass," says Neelam, 30. As a matter of fact, if anything has seen a marked change in Varanasi, it is the condition of the ghats- 87 in number on the banks of Ganga.
From what one gathers after talking to cross sections, it seems, the jury is still out on Modi. While people like Neelam are yet to see what they call 'magic of Modi wave', they are not disputing the signs of change that Varanasi also known as Kashi- world's oldest living city- has witnessed ever since it reposed its faith in him.
Being the victim of utter neglect at the hands of series of non-performing MPs before, including those from the BJP, expectations were extremely high from Narendra Modi. That is precisely why finding out how much his words have translated into action remains a complex task. To many, Modi is the best thing that could have happened to Varanasi.
"Despite tall promises made by our PM, not much has changed at the ground level here. Whatever changes have taken place are of plastic nature- more of ostentation and less of real work. Iron benches and bins have been installed at the ghats but roads are still in poor shape and traffic hellish," explains Ankit Kumar Singh, a research scholar at Banaras Hindu University (BHU), who has been witness to the changes that the city has been undergoing for a year now.
Before Modi goverment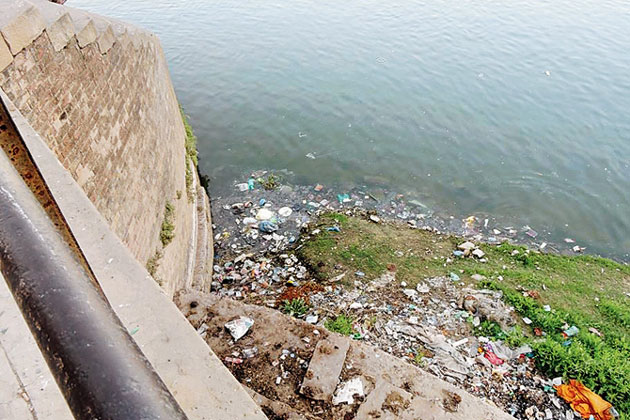 After Modi government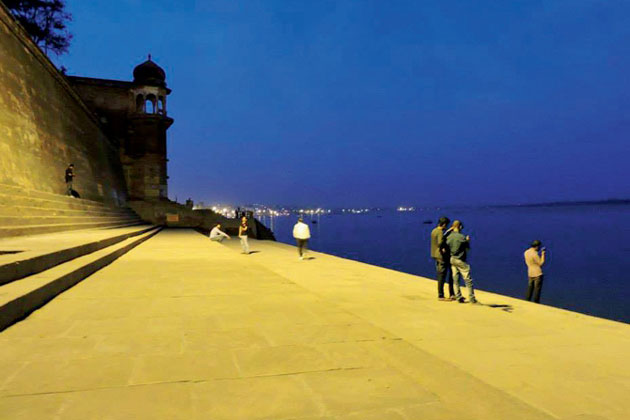 There are people who are optimistically happy with whatever is happening in Kashi. And then there are those who have started being critical of Modi. His supporters, including Varanasi's mayor Ram Gopal Mohale, claim that having elected the PM, Varanasi has a golden future in store for it tops the list of the nation's 100 smart cities. But his detractors say that barring the cleanliness campaign at ghats along the banks of the Ganges, particularly Assi Ghat, and the inauguration of a trade facilitation centre for weavers, Modi has failed the people here.
The common grudge, however, among locals is that the roads dug up for cable work or sewerage repairs have not changed much. People living in areas like Rathyatra, Bhojpur, Mehmoodganj, to name a few, are the worst-affected of the lot.
Some of the industrialists of the city who had pinned hopes on Modi are a dejected lot today. The office bearers of Varanasi chapter of Indian Industries Association lament that there have been no big-ticket investments so far as promised before elections.
"Not much has progressed on projects like trade facilitation centre for weavers and crafts museum at Bada Lalpur. Though the foundation stone of the building that will house both facilities was laid last November, construction is yet to begin," said Sidharth Vimal, a businessman.  Officials said that the project worth Rs 200 Crores might come up in two years.
Among the many much-touted projects that promised to benefit the city was the Varanasi-Kyoto twin city that also has not seen any progress on ground. City's Mayor, Ram Gopal Mohale, who visited Japan last month, claims discussions were on.
However Jayapur-Prime Minister Narendra Modi's adopted village-has benefited the most, much to the jealousy of neighbouring villagers. Today, this village in Rohaniya assembly segment has three banks, solar streetlights and nearly a dozen bio-toilets. Politicians and bureaucrats apart, doctors and agricultural experts visit it regularly.
"The women of our village are now learning how to weave. Our village is changing," said farmer Rakesh.
If there are 'signs of change', so are the issues of concern, more so for the promises and the expectations-both magnificent in their own terms. Modi's promises included a metro, monorail, six-lane highways, flyovers, ring roads, satellite towns, round-the-clock water supply, electricity and broadband internet connectivity, solid waste management systems, a Bhojpuri film city, an international spiritualism-cum-philosophy centre, battery operated cars, a global e-commerce-driven mart for handloom and handicraft, solar lighting in public places and, of course, luxury cruises on a clean and rejuvenated Ganges.
On paper, the Union government has reportedly earmarked Rs 11,800 crores for Varanasi's makeover. Of this, the Union government will contribute Rs 2082 crores, the UP government will invest Rs 1488 crores and the remaining Rs 8230 crore will be by private agencies. Not much, however, has been seen beyond paperwork.
For obvious reasons, the task of revamping Varanasi is enormous for Prime Minister Modi, but, many opine, that doesn't make him less accountable to the people of Kashi.
"A year has passed since Modi became the PM. Much of the hope which was generated around his over-hyped election campaign seems to have withered away. His home constituency of Varanasi might have deified him at a point of time, but disillusionment is creeping in slowly. Any sane discussion at a wayward tea kiosk in the holy city would tell you that," said up Anand Ritu Raj, a student and a blogger.
As for cleaning ghats, there is no end to aspirations. "Modi should do something to rein in hoodlums who roam around at ghats and pass lewd comments on women and girls," said Neelam, a regular at the river banks.